Miss Emily's Seafood Recipes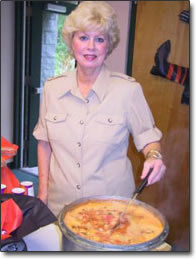 Emily Smith Schroeder ("Miss Emily") was born in downtown Charleston, South Carolina and raised by seafood loving parents with a tidal creek in the backyard and shrimp and fish vendors pushing wooden carts down the sidewalk outside the front door.
Emily served as a DNR employee for 30 years, and retired from DNR in 2006. She has loved being called on over the years to assist with functions that involves food, especially when it comes to preparing seafood dishes. She loves to set off a dish against a background of beautiful fabrics, flower arrangements, nautical decoration and dishes. To learn more about Mrs. Emily read Miss Emily's Biography.
Beaufort Stew
16 lbs. of beef sausage
2 bushels of corn
40 lbs. shrimp
10 pkg. crab boil
1-2 bottles crushed red pepper
Directions:
Simmer sausage and seasoning in huge pot for about 30 minutes.
Add corn, cook for 7 minutes. Then add shrimp and cook for 4 more.
If crabs are used, these may be dropped in along with the shrimp.
Small clams may be placed in and cooked for 1 - 1 1/2 minutes.
View all of Miss Emily's recipes.

(Adobe PDF)
Read Miss Emily's Biography.

Some of the files listed above are provided in Adobe® Acrobat® (PDF) format. Adobe® Reader® is required to open these files and is available as a free download from the Adobe® Web site.