Miss Emily's Biography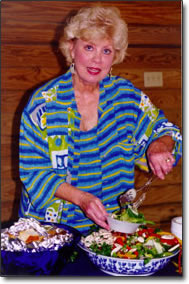 Emily Smith Schroeder was born in downtown Charleston, South Carolina and raised by seafood loving parents with a tidal creek in the backyard and shrimp and fish vendors pushing wooden carts down the sidewalk outside the front door. All the neighborhood kids would run along side the carts for a certain distance. Consequently, it was not unusual for Emily's family to sit down to seafood several times a week. Her favorite pastime was to jump into a row boat and catch fiddler crabs then count who caught the most.
Her paternal grandfather had been a retail grocer in Charleston and both her maternal grandmother and mother were accomplished country cooks who could work wonders with fresh vegetables and baked goods. Her dad was strong-willed, of German heritage and steeped in family values and tradition. Meal times were the most important event of the day in her family life.
There should be little surprise therefore, that Emily inherited a strong propensity toward culinary excellence in general with a particular love for seafood.
As a small child, her dad would walk Emily and her sisters to the yacht basin and catch shrimp and crab with a drop net baited with tied-in salted herring. She remembers her mother preparing seafood and taking much time to make sure no shells were left and the taste, seasoning, and palatability would be to perfection. As a teenager, she remembers her dad putting in a small rowboat in the creek and fish. They would eat pickled herring, cheese, sardines and crackers. Emily and her father continued the tradition of having herring and sardines every Saturday up into his eighties.
Summers were spent with her grandmothers. Part of the summer she spent with her paternal grandmother in the mountains to get away from the heat in Charleston. Saturdays were spent traveling to the farmer's market to purchase the wonderful fresh vegetables and fruits. Dairy products were purchased daily and placed in a bucket, lowered into a well that was located in middle of the mountain cabin.
The other part of the summer would be spent with her maternal grandmother on a farm in Dorchester Country. She remembers riding in a horse drawn open wagon to all the farm areas being harvested and carrying food to the cotton, sugar cane, and vegetable harvesters.
The kitchen was the busiest place as the stove was going all the time cooking down the vegetables and fruits for jarring to fill the shelves for the winter. Her favorite memory was climbing the fruit trees in the orchard and gathering the fruit and throwing the rotten ones at the nearest cousin.
Emily served as a DNR employee for 30 years, and retired from DNR in 2006. She has loved being called on over the years to assist with functions that involves food, especially when it comes to preparing seafood dishes. She loves to set off a dish against a background of beautiful fabrics, flower arrangements, nautical decoration and dishes.
She has included in the recipes

(Adobe PDF) some of her favorite seafood creations both from the family files and of her own creations.
The file listed above is provided in Adobe® Acrobat® (PDF) format. Adobe® Reader® is required to open this file and is available as a free download from the Adobe® Web site.