Red Drum Stock Enhancement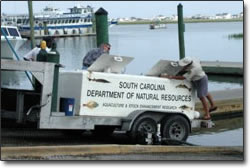 Why Should We Stock Red Drum?
The goal of the stocking project is to increase the population of red drum along South Carolina's coast. The Atlantic States Marine Fisheries Commission currently defines the red drum fishery as over-fished. Changes in size and catch limits that were enacted in August 2001 are projected to significantly help the population move to a position of sustainable when the next assessment is completed in 2005. If the assessment that time indicates that harvest is at a sustainable level, the current regulations will remain in place long term to allow rebuilding of the offshore brood stock population.
How We Stock Red Drum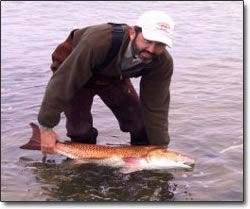 Revenues from the Saltwater Recreational Fishing License support this project's goal to increase the abundance of the state's most popular saltwater game fish. "In effect, fishermen themselves play an important role in the red drum restocking program," said DNR biologist Wallace Jenkins, who works on the stocking program. The S. C. Sea Grant Consortium and Federal Sportfish Restoration funds also support the program.
DNR's approach mimics the fish's natural cycle by having the red drum reproduce during the normal season -- August and September. The juvenile fish are released into their natural marsh habitat at sizes similar to that of wild juveniles. "The primary difference is that the stocked fish have been protected from predators for their first 30 days of life as compared to their wild counterparts, which enter the estuary near the bottom of the food chain, and are vulnerable to environmental disturbances during their early life stages," Jenkins said.
Related Links
Some of the files listed above are provided in Adobe® Acrobat® (PDF) format. Adobe® Reader® is required to open these files and is available as a free download from the Adobe® Web site.

The SC Department of Natural Resources would like to recognize and express our appreciation to the following organizations for their support in this effort so far:

For further information please contact:
Wallace Jenkins
Marine Resources Research Institute
(843) 953-9835
email: jenkinsw@dnr.sc.gov