Oyster Recycling and Restoration Program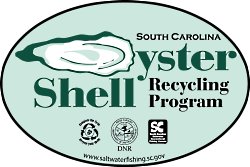 Hey Charleston Area Restaurants... Got Shell?

South Carolina Estuaries Need Your Oyster Shells!

Ladson Bin at Jessen Boat Landing will be temporarily unavailable until further notice.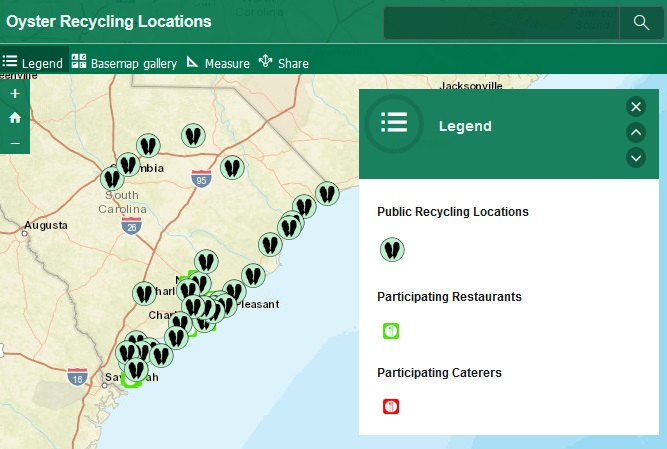 Why Should I Recycle My Oyster Shell?
Although South Carolina's commercial shellfish harvest has remained stable over the past three decades, the closing of oyster canneries and most shucking houses during this period has resulted in a shortage of shucked oyster shell needed to cultivate and restore oyster beds. The increasing popularity of backyard oyster roasts and by-the-bushel retail sales have contributed to this shortage in that, contrary to the shucking houses and canneries, shells remaining from individual oyster roasts are not usually returned to the estuary to provide a suitable surface to attract juvenile oysters. More often than not, the shell ends up in driveways and landfills.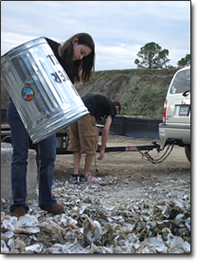 These factors have contributed to the critical shortage of oyster shell used for planting purposes and sustaining oyster habitat. The state has been forced to purchase the majority of its oyster shell from out-of-state processors to supplement our stocks of shell for planting. In order for SCDNR to properly manage the state's shellfish resources and maintain these critical habitats, we must continue to maximize our efforts to recycle our oyster shells. Recycling your shells will help restore, preserve, and enhance the state's inshore marine habitat.
Oysters - A seafood delicacy and:
A Harvestable & Renewable Resource: Each year tens of thousands of bushels are harvested recreationally and commercially.
Estuarine Filters: Adult oysters filter up to 2.5 gallons of water per hour or up to 50 gallons per day.
Habitat: Oysters build reefs which provide habitat for fish, shrimp, crabs, and other animals. They are an integral part of the marine ecosystem. There are nearly 120 different species that frequent oyster reefs, including; Red Drum, Blue Crabs, Flounder, and Shrimp.
Erosion Control: Oyster reefs are natural breakwaters that absorb wave energy and protect marsh shorelines from erosion.
How does this process work?
During the summer months, oysters spawn and release free-swimming larvae, called spat, into the water column. The spat are carried by tide and current and after spending about two weeks moving in the water column, seek a suitable surface upon which to attach and begin building their shells of calcium carbonate. Unless disturbed, they will spend the remainder of their life cycle where they have attached. Centuries of oyster cultivation experience have proven oyster shell to be one of most desirable materials (called cultch) for attachment and subsequent growth of young oysters. Other cultch materials, such as shucked whelk shell and wooden stakes have been very successful in attracting and supporting oyster spat.
Your license recycles!
Each year, oyster shell used for planting public shellfish grounds has become increasingly expensive and hard to find. A SCDNR project, funded by the revenue generated by Saltwater Recreational Fishing License sales, makes it possible to recycle oyster shell and reclaim this valuable resource to enhance shellfish habitat. As this conservation initiative gains public awareness and participation, it is hoped that increased volumes of oyster shell will be made available for planting Public Shellfish Grounds by SCDNR personnel and equipment and by contract with private companies to improve recreational shellfish harvesting opportunities for the public.
Recycling Do's and Don'ts
DO separate shell from trash. Shell mixed with trash is not suitable for recycling. Provide separate containers for shell and trash.
DO dump shells from bags or containers and leave only shells in the bins.
DO bring your shell to the nearest shell recycling center. Maps are provided below. If a center is not shown near you, please call 843-953-9397.
DON'T put live oysters in South Carolina waters. If the oysters you purchased were harvested outside South Carolina, it is illegal to place them in SC waters. Placing imported oysters in our waters can create environmental problems and may harm local oysters or other animals.
DON'T put freshly shucked oysters shell in SC waters. To avoid contamination, shell should be recycled to DNR and properly quarantined for 6 months.
Oyster Shell Drop-Off Locations
With the cooperation of local and county governments and businesses in coastal South Carolina, oyster shell recycling drop-off sites (PDF) (places where the public can bring their oyster shells) have been established in convenient locations. Location of sites are: Click on the maps below to bring up Adobe PDF file and a larger view. Maps are from 245 KB - 477 KB in file size. The drop-off locations are listed by County from North to South.
(Documents below are in PDF format.)
Richland County
Columbia Bin at Clothing World
Coming from Downtown Columbia get on SC-277 N for 4.9 mi, Take exit onto I-20 E toward Florence for another 8.9 mi. Get off on exit 82 for Spears Creek Church Rd. toward Pontiac. Take right onto Spear Creek Rd, then take right in .2 mi on SC-12 W, then in .4 mi take 1st right toward Clothing World.
Columbia Bin at City Roots
Coming from Downtown Columbia take SC-48E/Assembly St. and go for 1.6 mi before taking a left on SC-16/Rosewood Dr. Go .3 mi and take right onto Superior St. Continue .3 mi and it will turn to Mitchell St. and go straight for another .2 mi. Then take right on S Edisto ave which then turns into Commerce Dr. Go for another .4 mi before taking left onto Airport Blvd. City Roots is a urban farm and bin is located on their property.
Kershaw County
Camden Bin at Off the Hook Seafood
The Camden Oyster Shell Recycling Bin is located at Off the Hook Seafood, 2406 Broad St B, Camden, SC 29020 at the intersection of Knights Hill Rd. and Broad St/Hwy 521. There are blue recycling cans with the oyster shell recycling logo outside of the building for you to put your shells in.
Darlington County
Hartsville Bin at Kalmia Gardens
From downtown Hartsville take Carolina Ave. west towards Hwy151. As the road forks, keep to the right and the entrance to Kalmia Gardens will be on the right. Pull in the gate and continue forward and you will see the wooden oyster recycle bin on your left. From 151 turn onto West Carolina Avenue. Travel approximately 1 mile and the garden entrance will be on the left. Enter through gate and travel straight back. The wooden oyster bin will be on your left.
Florence County
Florence Bin
Leaving from downtown Florence take South Irby Street to Pamplico Highway. Stay on Pamplico Hwy for 8 miles and end at 5911 Pamplico Hwy Florence, SC 29505. The location is a business Thompson Logistics. The bin is at the back of the property to the left of the building and is a three sided cattle pin style bin. There is 24/7 access to the bin.
Horry County
N. Myrtle Beach Bin at Platt's Seafood
***
Temporarily not Available. This is location is getting maintenance done and will hopefully be available in the coming months.
***
Take Hwy 17 N, turn right onto Sea Mountain Hwy (65/9). Platt's Seafood is 0.4 miles on the left. Bin is a DNR trailer in parking lot. Address: 1108 Sea Mountain Hwy #1.
Myrtle Beach Bin on 21st Ave N.
At Hwy 17 and 21st Ave N intersection turn North onto 21st Ave N (headed away from beach) in between Nascar Sports Grill and Phillips Seafood Market. The bin is the first right just past Nascar Sport Grill parking lot down a dirt road.
Georgetown County
Murrells Inlet Bin at Garden City Fire Dept.
From Georgetown take US 17 N. Bear right onto Murrells Inlet US 17 Bus. Fire Station is 3.80 miles on the right. From Myrtle Beach take Myrtle Beach US 17 South to Murrells Inlet. Turn left onto US 17 Bus. Murrells Inlet. Fire station is 0.8 miles on the left. Trailer is behind fire station.
Murrell's Inlet Bin at Clambank Landing
From Litchfield, take U.S. Highway 17 N toward Myrtle Beach. Approximately 1.26 miles north of Brookgreen Gardens entrance turn right on to dirt road marked "Oyster Shell Recycling".
Georgetown Bin at Waccamaw River Bridge
Take Highway 17 North through Georgetown. Before the Waccamaw river bridge, turn left toward the Winyah Bay Fishing and Observation pier. Shell recycling drop off site is located approximately 0.3 miles on right. Look for blue recycling signs.
Berkley County
Goose Creek Bin at Gilligan's Restaurant
Address 219 St. James Ave.  Goose Creek, SC.  Coming from I-26 head north on Highway 52. Take a left onto Highway 176. Travel approximately one mile and you will see Gilligans on your left. Take a left at the light onto Bridgetown Rd. and then another left onto St. James Ave. and into the Gilligans parking lot.  The recycling bin is a DNR trailer in the back corner of the parking lot. This recycling location is available seasonally from September 15 to April 30.
Moncks Corner Bin at Gilligan's At the Dock
Take US-17 ALT N from Moncks Corner for 2.3 mi and sign for Gilligans will be on right. Follow road and Trailer will be in parking lot. Or follow US-52 W through Moncks Corner from Goose Creek and when you must take right at light you will see sign for Gilligans immediately after light. It is immediately before Cooper River. If coming from US-52 E immediately after going over Cooper River take first left.
Dorchester County
Ladson Bin at Jessen Boat Landing
Take 642/Drochester Rd. N. Turn left onto Ladson Rd. Follow Ladson Rd. for 0.6 miles. Enter Jessen Landing. Drop-off site is to the right near the fence of the parking lot as you enter.

Ladson Bin at Jessen Boat Landing will be temporarily unavailable until further notice.
Charleston County
McClellanville Bin at The Town Hall
Take US 17 N. to McClellanville. Turn right onto 45/S. Pickney St. Merge onto Pickney St. Turn right at town hall. Drop-off site is on the right near the fire tower.
Awendaw Bin at Garris/Moores Boat Landing
Take US 17 N. toward Awendaw. Turn right on Seewee Rd. for 3.5 miles. Turn right on Bulls Island Rd and follow to the end. Drop-off site is in the left back corner of the parking lot near the restroom area.
Mt. Pleasant Bin on Sweet Grass Basket Pkwy
From Mt. Pleasant, Highway 17 N turn right on Isle of Palms Connector/SC-517S after Mount Pleasant Towne Center. After 0.2 miles on IOP Connector, left to Sweetgrass Basket Pkwy. Travel 0.6 miles on Pkwy before taking right into Mount Pleasant Recycling/Maintenance Center. Take immediate left on gravel rd. to oyster recycling 0.1 miles down.
Mt. Pleasant Bin at Red's Ice House
From downtown Charleston cross over the Arthur Ravenel Jr. Bridge towards Mt. Pleasant. Stay right and take the Coleman Blvd. exit. After the first traffic light past the bridge travel 1.14 miles and take a right at the traffic light onto Mill St. Go straight until you dead end into a gravel parking lot. The recycle bin is a DNR trailer in the back of the parking lot next to the dumpster. This recycling location is available seasonally from September 15 to April 30.
West Ashley Bin at Charleston Outdoor Catering
Leaving Charleston, take Highway 61( St. Andrews Blvd.) Approximately 1.8 miles from the Ashley River Bridges, a Recycling Drop Off trailer is located approximately 0.2 on the right hand side of the road-before the fork of 171 and 61. 1000 St. Andrews Blvd. (Charleston Outdoor Catering-Jamie Westerndorf) 769-6889
James Isl. Bin at Sol Legare Boat Landing
Take Highway 171(Folly Rd) toward Folly Beach. Approximately 2.3 mile from Ft. Johnson road, turn right onto Sol Legare' Rd and follow the road 2.5 miles down to the end –Battery Island Boat Landing. Drop off site is on left.
James Isl. Bin at SCDNR on Ft. Johnson Rd.
From Charleston take US 17 (Savannah Hwy) South. Turn left of 171 (Folly Rd.) for 4.5 miles. Turn left onto Fort Johnson Rd for 4.8 miles. Enter the South Carolina Department of Natural Resources gate and continue on main road and follow the oyster drop-off sign. The drop-off site is in the back of the grass field with a trailer and sign.
Johns Isl. Bin at Gilligan's Restaurant
From Johns Island take Main Road toward Highway 17. Gilligan's is 1.4 miles after the Main Rd./River Rd. traffic light, on the left.  Or from West Ashley, take Highway 17 South. Take a left at Main Rd. going towards Johns Island. Gilligan's is 0.23 miles on the right. The recycling bin is a DNR trailer that is located behind the restaurant. This recycling location is available seasonally from September 15 to April 30.
Wadmalaw Isl. Bin at Bears Bluff Fish Hatchery
Coming from Johns Island take Maybank Hwy toward Wadmalaw Island. After you cross over Main Rd. travel approximately 2.8 miles till the road fork and bear to the right onto Bears Bluff Rd. Follow Bears Bluff Rd. another 9 miles till it dead ends into the Bears Bluff Marine Fish Hatchery. Go through the main gate and turn right. Go through a fenced gate and take your first left after the fenced gate. The recycling bin will be just down this road.
Edisto Island Bin
Take Highway 174 toward Edisto Beach State Park. Approximately 12.1 miles from the Dawhoo Bridge there is a recycling center on left or 0.8 miles from the beach on right. Look for blue recycling signs.
Colleton County
Walterboro Bin at the Beltline Recycling Center
The Walterboro Bin is located at the Beltline Convenience and Recycling Center which is located on Robertson Blvd (Walterboro Bypass) just 0.3 miles north of the Colleton Middle School near the airport runway. The bin is located in far left corner of the facility right when you pull in.
Beaufort County
Beaufort Bin at Beaufort County Public Works
On Highway 21 Heading north from Beaufort, turn left onto Shanklin road. Shanklin road is approximately 0.6 miles north of the Beaufort Marine Corps Air Station Main Gate. Follow Shanklin road for 0.75 miles to Beaufort County Public Works Department. Turn right into solid waste recycling center. Ask attendant for key and directions to shell recycling drop-off. Hours of operation: 7AM to 7PM seven days per week.
Bluffton Bin at Trask Landing
Off 278 take Sawmill Creek Rd. which is .85 miles down from Bluffton Rd. Trask Landing is at the end of Sawmill Creek Rd. (3.6 mi). The recycling bin is a DNR trailer.
Hilton Head Bin at Coastal Discovery Museum
The recycling bin is located inside the Coastal Discovery Museum located at 70 Honey Horn Dr. Hilton Head, SC 29926. Once inside the gate take your first left, there will be a sign to direct you, and the wooden three sided bin is just on your left. The entrance to the Coastal Discovery Museum at Honey Horn is located off of Gumtree Rd. Take either Cross Island Pkwy or William Hilton Pkwy (278 BUS) to Gumtree Rd near where 278 splits.
Port Royal Bin at Sands Beach Boat Landing
Take Ribaut Road (SC Highway 802) west Towards Port Royal and Parris Island approximately 4.0 miles. Turn left onto Paris Ave. for 0.7 miles, then left behind Port Royal Town Hall onto 7th Street. At stop sign, go straight across onto Sands Beach Rd. Shell recycling drop-off is 0.3 miles on the left.
Lemon Island Bin at Edgar Glenn Boat Landing
The oyster shell public drop-off is located at the Edgar Glenn Boat Landing at the Chechessee River Bridge on Highway 170. The drop-off bin is on the same side of the road as the boat ramps. The bin is a wooden three sided bin in the parking lot near the foot of the bridge.
Hunting Isl. Bin at Russ Point
Highway 21 south from Beaufort 16 miles to Hunting Island. Before Bridge to Fripp Island turn right onto county dirt road. Shell recycling drop-off is 0.3 Miles on left.
St. Helena / Lady's Island Bin
From Downtown Beaufort take the Sea Island Parkway and cross over the Beaufort River towards Lady's Island and Frogmore. Once across the river from the end of the bridge go approximately 4.5 miles to the St. Helena Recycling and Convenience Center. Take a left into the recycling center. The bin is a wooden three sided bin on the right before you get to the main drop off area.
The SCDNR would like to recognize and express our appreciation to the following companies and organizations for their support in this effort so far:
Carolina Seafoods, Inc.
Carrigg's Seafood
South Carolina Parks, Recreation and Tourism
Thompson Logistics LLC
Related Links
The Oyster Shell Recycling Program coordinates with oyster roast caterers and local restaurants to pick up larger quantities of shucked shell when practical to add to the DNR stockpiles.
For further information about oyster shell recycling, please contact: