SCDNR - News Release
January 9, 2006
(843) 953-9310
DNR partners with National Guard for successful reef deployment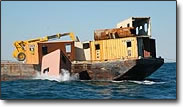 The S.C. Department of Natural Resources is working with the S.C. Army National Guard to deploy steel shipping containers and culvert pipe into the ocean to enhance marine artificial reef sites off South Carolina's coast.
Despite high seas and rough weather conditions, the S.C. Department of Natural Resources (DNR) successfully deployed 50 shipping containers to the Hilton Head and Whitewater artificial reef sites in late December 2005. The S.C. Army National Guard, which has partnered with DNR to provide preparation and transportation of reef site materials since 1997, delivered the steel shipping containers to the Charleston Naval Base, which were then transferred by barge to the reef sites off the coast of Hilton Head.
For artificial reef locations or for more information on the DNR's Artificial Reef Program, visit http://www.dnr.sc.gov/marine/pub/seascience/reefloc.html, or contact Bob Martore in Charleston at (843) 953-9303.
The DNR's Artificial Reef Program places yellow buoys on the artificial reef sites to assist boaters in locating the reefs. Lists of the reef sites, structures and GPS coordinates, as well as information on using artificial reefs are made available to those who are interested in fishing or diving on the sites.
According to Master Sgt. John Barr with the S.C. Army National Guard, "The material preparation consists of stripping the doors and loose material from the containers, as well as cutting holes on the front and sides, large enough to enable divers' access."
In 2005 alone, the S.C. Army National Guard, through its Artificial Reef-X Deployment Program, has contributed more than 350 tons of concrete culvert pipe and 50 steel shipping containers to DNR's Artificial Reef Program, enhancing at least three existing reef sites off the coast of Hilton Head, including the Fish America Reef.
There are currently 45 artificial reef sites in South Carolina's coastal and offshore waters spanning from Little River to Hilton Head. Although the majority of these reefs are 3 to 10 miles offshore and can only be reached by boat, some reefs are located in estuarine waters or adjacent to established fishing piers. The reefs are constructed from a wide variety of materials, including steel-hulled vessels, concrete and steel bridges, concrete culvert pipe, steel dry-dock work platforms, ex-military aircraft and army tanks. The materials, once deployed to the reef site, allow for the flourishing of hard-bottom communities, which lead to an increase in marine productivity. Recreational fishing and diving opportunities are also enhanced as a result of artificial reef development.
- Written by Anna E. Martin -